Department of Surface Coating and Corrosion
Department of Surface Coatings and Corrosion, equipped with state-of- art instruments, covers all fields related to organic coatings involving high solid, powder, water-borne and radiation curable coatings. Surface preparation and engineering, corrosion protection methods and theory, smart and environmental friendly coatings, preparation technology, application methods, professional consultation, quality control in compliance with existing and customized standards and benchmarking the surface coatings are among the comprehensive activities of this department. Our team focuses on high-tech projects considering the oncoming needs of industries.
Research activities
The research activities mainly concern designing, formulation, optimization and modification of different types of surface coatings and related processes, study of properties of different types of surface coatings (protective, decorative and functional) on different types of substrates such as metallic, concrete, wood, paper, plastics, fundamental studies of anti-corrosion properties of surface coatings and corrosion inhibitors. 
Customer services 
Our team offers an extensive range of comprehensive services including:
Simulation of the corrosive media to examine the coating performance in service life
Performing coatings testing including
Reference laboratory for quality control of water, oil and gas transmission line coatings
Providing Advice on setting up laboratories and color production lines
Certifying coatings quality
Formulating desired coatings based on customers' demands
Troubleshootin
Facilities
Equipment of Surface Coating and Corrosion Group
Row
Property
Test
1
Primary
Surface/interfacial Tension-Contact Angle-Powder Wetting Angle-Solid/Volume Content-Zinc Content-Viscosity Analysis-Particle Size-Hiding Power-Drying Time-Preparation Devices(Homogenizer-Ultrasound-Mixer-Three role mills)
2
Anti-corrosion
EIS-DC-Noise-Cathodic Disbondment-Salt Spray-Humidity Chamber-Cyclic Corrosion Tester-QUV
3
Appearance, Physical and Mechanical
Pendulum Hardness-Micro Hardness-Pencil Hardness-Pull off-Cross Cut- Bending-Thickness-Turbidity-Tensile(Elevated Temperature)-Melt Floe Rate-Cupping-Wave Scan-Gloss-Roughness-Impact-Abrasion Resistance-Washability-Chipping Resistance-Solvent Resistance-Scratch Resistance-Thermal Stability-Oil Absorption-Light Resistance-Freezing Resistance-Electrical Resistance
Members
Distinguished projects
Cr (III) conversion coating on steel
- Layered double hydroxide (LDH) conversion coating on aluminum with subsequent silane coating
- LDH decorated nano-silica for corrosion inhibitor loading
- Graphene oxide (GO) encapsulated with polydopamine (PDA@GO)
- GO as Pr(III) container (Pr(III)@GO)
- Silane coating containing oxidized Carbon Nano-Tubes (CNTs) and their water uptake calcuation based on CPE element 
- Enhancement of UV resistance polyurethane coating (PU) with reduced GOs (rGOs)obtained with different methods
-Plants extracts and their use as corrosion inhibitor solely or in combination with inorganic cations providing synergistic inhibition effect
- Haloysite as container for organic in inorganic corrosion inhibitors
- Mesoporous silica as container for organic in inorganic corrosion inhibitors
- Carbon hollow spheres (CHSs) as container for organic inhibitor
- Carbon hollow spheres (CHSs) as container for film forming agents for application in self-healing coatings
- Metal organic frameworks (MOFs) as container for organic inhibitor
- MOFs decoration on GO
- Epoxy-silicone coatings with high weathering and corrosion resistance
Graphene Oxide as a Potential Nanocarrier for Zn (II) to fabricate a Dual-functional Active/passive Protection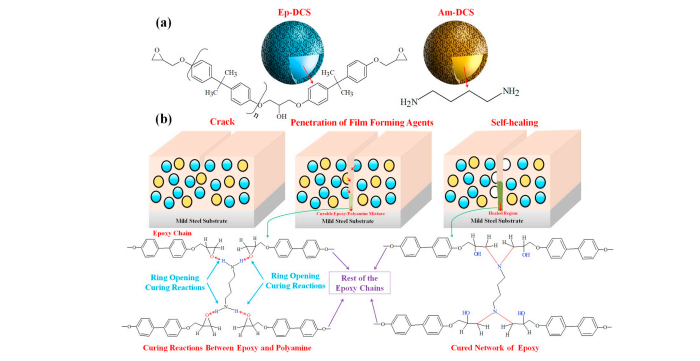 Self-healing epoxy nanocomposite coatings based on dual-encapsulation of nano-carbon hollow spheres with film-forming resin and curing agent
Project: Scratch Resistant Automotive Clearcoat with Self-healing capability
Typical Automotive clearcoats – Low scratch resistance and partially healable
Nanotechnology-based Automotive clearcoat – Highly scratch resistant and Fully healable 
Cold galvanized nanocoating (CGN): A single and one-component zinc-rich based nanocomposite coating based on the modified graphene oxide was developed as an effective cold-galvanized coating with long-term cathodic protection properties for application on the power transmission towers.

Images of power transmission towers after two years coating with CGN in North of Iran
Cerium chemical conversion coating (CeCCC)
Type of use: Chemical treatment solution for: Steel structures, storage tanks, pipe line surface (prior paint application)
Important specification: Good adhesion to steel and paint (i.e. FBE, Three-layer PET), high stability in alkaline condition, Low film thickness (<100 nm), good thermal resistance (up to 500 °C), low solubility in water, non-toxic